Sidebar
Things to do in the Garden in January
Early January
There's always something to be doing in the garden, whether it's pruning, tidying or sowing, so we've put together our top gardening tasks for January.
Is your garden lacking colour in the winter consider planting some flowering shrubs the are at their best in January , Sarcococca , Mimosa (Acacia Dealbata) , Callicarpa Bonineri Profusion or Mahonia Soft Caress , Daphne Mezereum.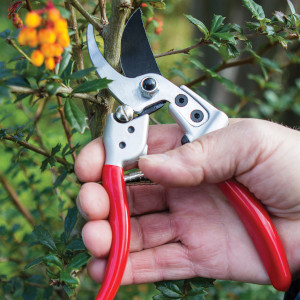 Prune Rose bushes now while they are dormant. Cut back to just above a bud and remove any crossing or dead branches, see our full range of Darlac prunes
Plant bare root roses now for spectacular summer colour. Consider planting some old fashion shrub roses that have stood the test of time or maybe a scented old rose by a door or gate.
Keep deadheading any faded flowers from your winter pansies to stop them setting seed and help them to continue to flower better.
Start chitting (sprouting) early potatoes - stand them on end in a module tray or egg box and place in a bright cool frost-free place. Seed potatoes should be stored in trays, in a light, cool, frost-free place to chit ready for planting in March or April
Pruning your apple trees and pear trees , this is best done whilst they are dormant. Leave plums, cherries and apricots unpruned until the summer as pruning these fruit trees now will make them susceptible to silver leaf infections.
Plant raspberry canes, blackcurrant bushes, gooseberries and redcurrants on sunny sites with free-draining soil.
In the greenhouse for better seed germination, try using electric propagators to help your early seedlings along. I use a Big 3 propagator which I have used without fail for over 25 years, I also have a super 7 made by the same family business which I use on the windowsill in the house for smaller batches.
Bulbs, corms and tubers that are being kept in store should be checked regularly for signs of deterioration or rot.
Please remember to provide a supply of food again this month for all the birds.
If you'd like to have a go at growing your own fruit, order your fruit trees now ready for planting in the spring.
Order your flowers and vegetables seeds now,have a garden plan drawn up to help decide the quantities you need.